Introduction (POLYIMIDE Molded Parts & Shape)
PLAVIS, the result of our independent polymerization technique, is a wholly aromatic polyimide and exhibits outstanding resistance to heat, wear, mechanical abrasion, radiation and chemicals. Also, due to its ease of manufacture and electrical insulation properties, this environmentally friendly, super engineering plastic is used in various advanced industries including mechanicals, high vibration, electrical/electronics, chemicals, automobiles, space, aviation and military.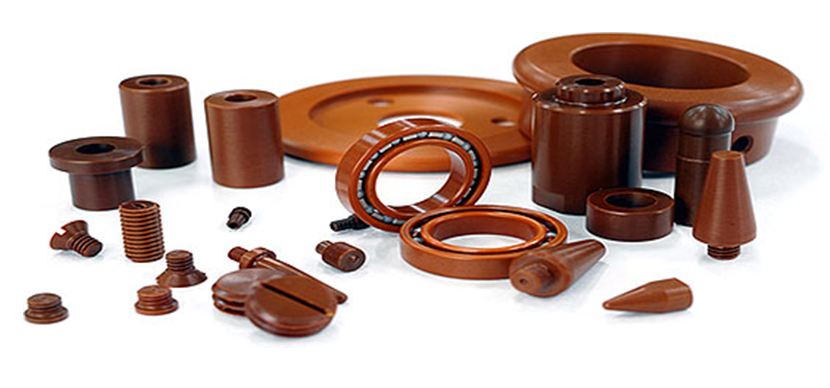 Major Characteristics
Grades & Property
available in these four resin compositions to offer a range of property combinations.
Grades & Property 구분과 특성을 정리한 표
Item
Characteristics
Compressive Molding
N/A(N)
Superior mechanical properties, extraordinary resistance to radiation, electricity, heat and chemicals, less gas emission
N/A(S)
Super heat-resistant (best mechanical properties at 350° F during continuous operation)
Graphite 15wt% added (G15)
High resistance to wear and tear, extremely low friction factor, suitable for rotating parts of rotary machinery
Graphite 40wt% added (G40)
Greater friction resistance than G15, high dimensional stability
MoS2 15wt% added (MS)
Applicable to vacuum or un-lubricated environment, super wear resistance
Conductive (C)
Electrical conduction, good heat resistance, mechanical properties, surface resistance < 103
Antistatic (ESD)
Antistatic, good heat resistance and mechanical properties, surface resistance 106 ~ 109
Non filled (S1)(ESD)
Suitable for test sockets in semiconductor industry with excellent machinability, dimensional stability and laser cleaning stability
Filled (SG)
Suitable for carriers or handling parts in high temperature processes with very high strength and dimensional stability at high temperatures
Non filled (HM)
Suitable for test sockets in semiconductor industry with excellent heat resistance, dimensional stability and high flexural modulus
Direct Formed Parts

Direct formed parts are produced using the powder metallurgy process, which involves either compression molding or sintering processes depending on the shapes of parts. Our automatic, advanced manufacturing facilities allow small parts in various grades to be supplied in large quantities.
Machined Parts

Rod- and sheet-type parts are designed for a variety of environments and part shapes. Our machined parts (MP) are manufactured using highly advanced power compressive molding compared to direct formed parts. Due to the resultant absolute accuracy and perfectly even partial density, there are no specific direction properties, which makes PLAVIS machined parts more reliable and extraordinary than direct formed parts.
ROD
ROD의 Diameter,Length를 정리한 표
Diameter
Length
1/4" (6.35mm)
19.6" (500mm)
3/8" (9.53mm)
7/16" (11.11mm)
1/2" (12.70mm)
5/8" (15.88mm)
3/4" (19.05mm)
1" (25.40mm)
1-1/4" (31.75mm)
1-1/2" (38.10mm)
2" (50.80mm)
PLATE
PLATE의 Diameter,Length를 정리한 표

| Length & Width | Thickness |
| --- | --- |
| 12"×12" (304.8mm×304.8mm) | 12.7~62 (mm) |