Domestic-Overseas Branches
SALES & SUPPORT
Daelim Co., Ltd has domestic and overseas sales offices around the globe to rapidly deliver our products to customers. Please leave an application request for our polyimide parts and materials, regardless of industry, and our highly skilled technical support team will happily respond to your questions. Daelim Co., Ltd PLAVIS materials are available at local branches both at home and abroad.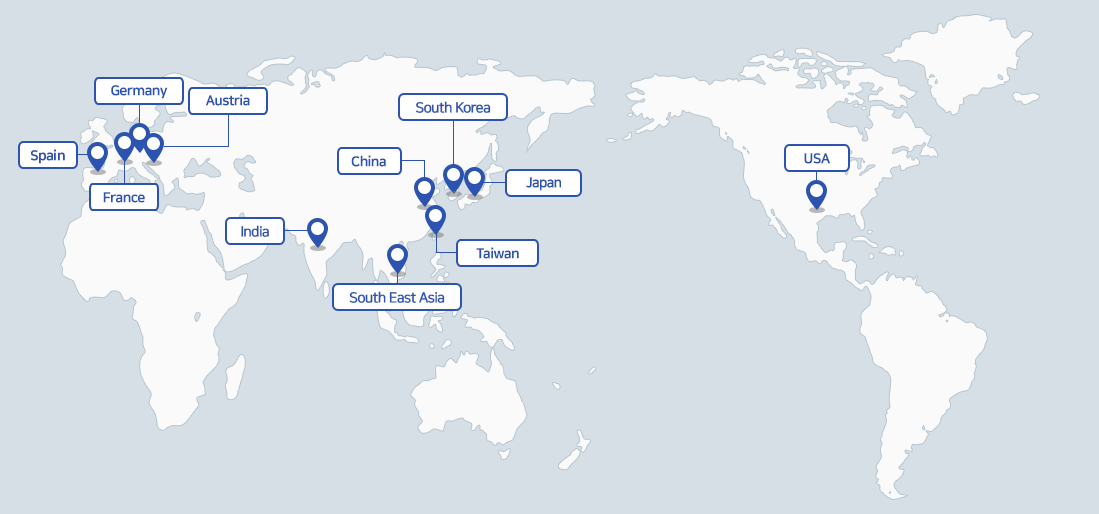 EUROPE (Germany)

COMCO NYLON GMBH
EUROPE (Austria)

MERTL Kunststoffe GMBH
EUROPE (France)

PLASTIQUES FACONNES DU BETHUNOIS (PFB)
ASIA (China)

DAELIM CO.,LTD GUANGZHOU OFFICE (SHANGHAI)

SHANGHAI MILES CHEMICAL TECHNOLOGY CO.,LTD
ASIA (Taiwan)

HAO LI TECHNOLOGY CO., LTD.
AMERICA (USA)

BOEDEKER PLASTICS, INC

Address

Boedeker Plastics, Inc. 904 West 6th Street, Shiner, Texas 77984 USA

Tel

+1. 361. 594. 2941

TOLL-FREE

+1. 800. 444. 3485

Site

http://www.boedeker.com
ASIA (China)

RICH STEP INDUSTRIES. LTD
ASIA (Japan)

KYOKUTO SHOKAI. LTD

Address

MEIJISEIMEIKAN 5F 1-1 MARUNOUCHI 2- CHOME, CHIYODA-KU TOKYO 100-0005 JAPAN

Tel

+81. 3. 3211. 8631

Contact point

Mr. Yasushi Nagai(mp +81. 80. 1223. 5822)

Site

www.kyokutos.co.jp
ASIA (South-East)

i-CHAMP TECHNOLOGY
ASIA (India)

Padmini Innovative Marketing Solutions Pvt. Ltd